Introducing Caramel Court

Odo-Egiri in Epe Township
Remarkably worthy of note is our beautifully structured Caramel Court. Located in the centralized city of Odo-Egiri in Epe Township is the fully-fitted mini smart estate with 6 units of 3-bedroom terraces.

With N7,000,000 starting price, you can get your dream home in caramel court.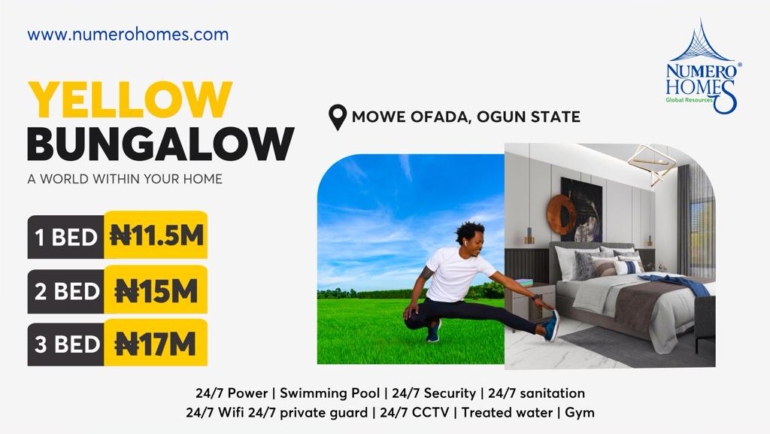 Caramel court
Property ID NMH-001
Price ₦48,000,000.00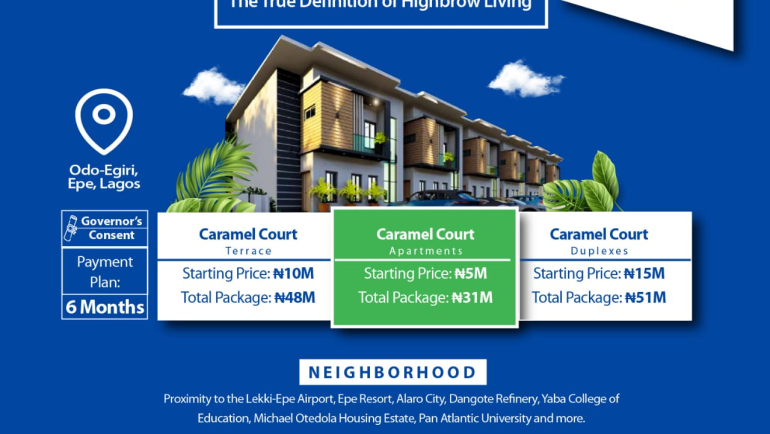 BrownHill Estate
Property ID NMH-009
Price ₦3,000,000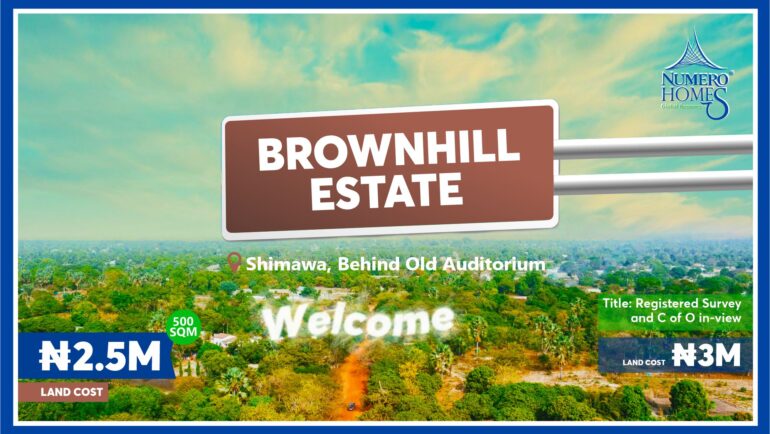 Green Ivy Estate
Property ID NMH-001
Price ₦1,200,000.00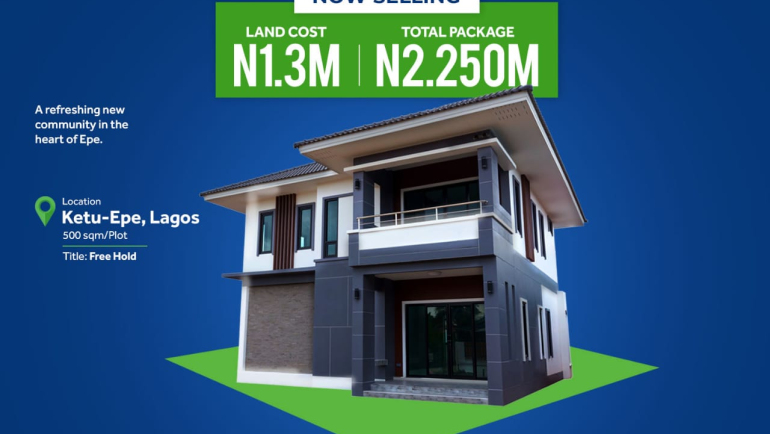 Bluepride Estate
Property ID NMH-019
Price ₦5,000.000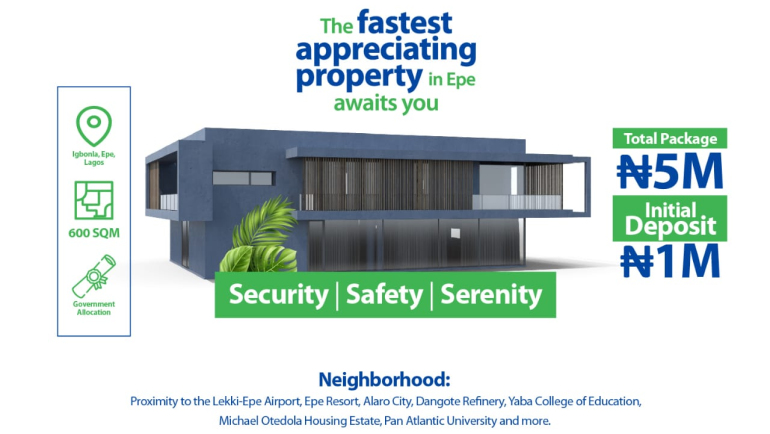 Delight Estate
Property ID NMH-011
Price ₦25,000.000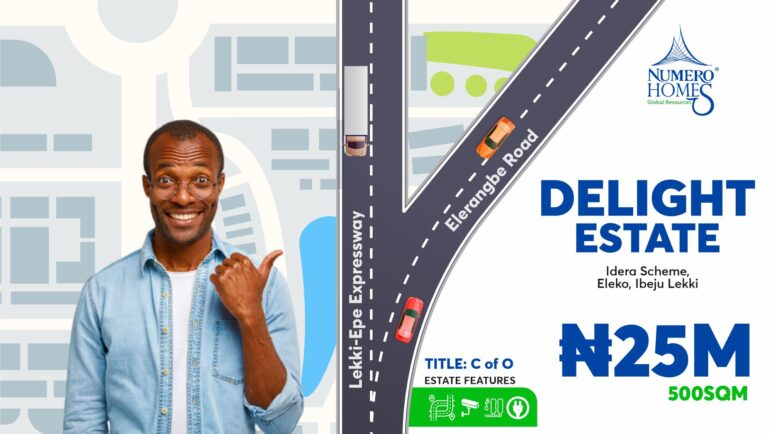 Beige Residence
Property ID NMH-008
Price ₦15,000.000
Why we are the preferred choice
A dedicated team of experts
Whether you are a buyer, seller, tenant or landlord, we have all your bases covered! Our award-winning team of friendly experts are prepared to go the extra mile for every client, ensuring the best possible outcome with maximum ease and transparency.
Wide range of services/properties
We offer a one-stop shop for all real estate services, including land acquisition, property development, real estate investment, and advisory services. Our property portfolio caters to a diverse range of clients who may be looking for an off-plan, short-let, or investment property.
Proven results
We are motivated by a strong commitment to providing stellar customer experiences that are matched by exceptional results. Our proactive approach to identifying desirable properties for our buyers, as well as the way we handle the offer and negotiation process, has resulted in a lot of success and a new place to call home for our clients.
Properties everyone can afford
With us, you never have to worry about not having enough money to get started on your home ownership journey. We've devised flexible payment plans to suit all budgets.
News & Blog
Land appreciation is the increase in the value of a piece of land over time. This phenomenon is a fundamental concept in real estate and has far-reaching implications for property owners, investors, and the broader economy. In this blog post, we'll delve into the reasons why land appreciates and how this process occurs. Why Does…
Property tax is an essential and often misunderstood aspect of real estate. Whether you're a homeowner or an investor, understanding property tax and its significance is crucial. In this blog post, we will help you understand what property tax is, how it works, and why it's important in the world of real estate. What is…
When it comes to homeownership, two key factors play a pivotal role in shaping your experience: the property itself and its location. While the property reflects the physical structure you'll call home, the location encompasses the neighborhood, amenities, and accessibility.  There has been an age-long debate on which of them is more important when buying…
Why Numero Homes?
We are Numero Homes
Numero Homes Global is an indigenous real estate company that specializes in property acquisition(Residential and Commercial), Construction, Renovation and property investment advisory services. Our team of well experienced professionals in the Nigerian Housing leverage on existing resources to structure suitable proposition that will translate to customer satisfaction.
Testimonials
I am most grateful to the entire Numerohomes team, through your in-depth knowledge in business not only have you made me fulfil a live long dream of becoming a property owner, but you did so in the most pocket friendly manner Kudos!!!
I was a banker working with one of the prestigious commercial banks in Nigeria and based in Lagos. I used to have this wonderful colleague (Omowunmi) who is also a friend in the system. She is of a unique personality and because of that I used to talk to her on almost everything about myself.
I have just received my annual bonus and merged with my savings totaling N7million and was going to Ibeju Lekki to buy a property before a friend introduced me to Numero Homes. They were pleasant and was asked if my bonus is guaranteed annually. I met with the CEO, Omowunmi. She asked if I will oblige if she gets a property for me in Lekki with flexible terms.
Our experts are happy to answer all of your questions and find the best possible solution for the project you are working on.