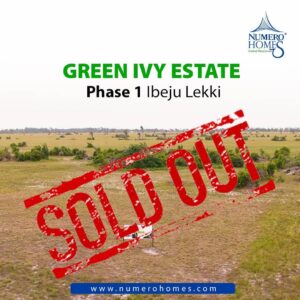 GREEN IVY ESTATE, Phase 1 (Sold Out) – Ibeju Lekki
We want you to know that owning a home is a keystone of wealth, both financial affluence
and happiness.
So we present to you a double treat of real estate investment where you can get to own a
home and still build a business empire right in one estate.
GreenIvy Estate, Phase I located at Ikegun, Ibeju Lekki with proximity to La Champagne
Tropicana Beach Resort, Lagos State.
Title: Excision in process
Size: 600sqm
Price – N1,200,000