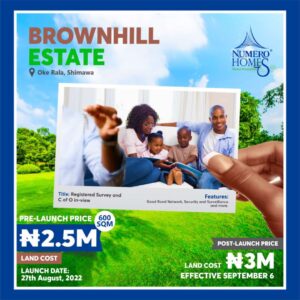 Real estate investment is the bedrock of most wealth and the beginning of owning a home that one's family can be proud of.
A home is an enjoyable, happy 
place where you can live, laugh, and learn. 
As a first step to home ownership, being a land owner remains a crucial process in achieving this dream.
The Brownhill Estate is a highly valuable investment that is situated in one of the largest economic bases in Nigeria with a fast rising metropolitan city and a regional urban setting soon to be established. 
🪧*LOCATION:*
Oke-Rala, Shimawa, Ogun state.
🪧*PRICE:*
*2.5m (Pre-launch)*
🪧*SIZE*:
500sqm
 
🪧*TITLE*:
Registered Survey and C of O (in view)
🪧*AMENITIES:*
A well-developed road network
Areas for recreation
Portable water
Electricity fenced and gated community.
Estate security
*IMPORTANT LANDMARKS*:
👉🏼Lagos-Ibadan Expressway
👉🏼RCCG Camp
👉🏼Mountain Top University
👉🏼Christopher University
👉🏼OPIC Estate, amongst others. 
This is an opportunity to live close to the latest metropolitan city with a great master plan in place. 
📞For more information and inquiries, please call 09134444983 or 07025000038