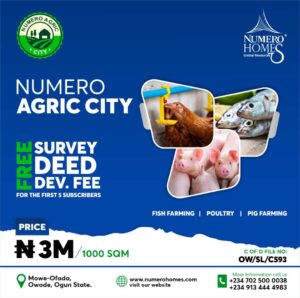 Numero Agric City – Mowe-Ofada
For the first time in history, a real estate community is being established for farmers.
Introducing Numero Agric City, a settlement dedicated to farmers
Numero Agric City is a total agri-based community where farmers are assured of a rich living.💪🏼
This city is strategically positioned to impact our rural community and positively influence Africa's food security.
Located at Someke, Mowe, Ogun state, will help to cushion the effect of food shortage in the country.
With N3,000,000 you can get an agric plot of land for you to start your poultry, fish or pig farming business.

This is an opportunity you don't want to miss if you are planning to be a farmer.
Title: Certificate of Occupancy (OW/SL/C593)
Size: 1000sqm
Price – N3,000,000
Location – Someke, Mowe, Ogun State
For more information and inquiries, please call09134444983 today.
Here are 3 reasons to invest in Real estate:
Capital Appreciation: Real estate investors make money through rental income, any profits generated by property-dependent business activity, and appreciation. The value tends to increase over time, and with a good investment, you can turn to profit when it's time to sell.

Low risk investment: We have heard of stock market crashes and low interest on fixed deposits, REAL ESTATE keeps appreciating even when the property values fall.

Use as Collateral: Collateral is one of the biggest obstacles faced by entrepreneurs in obtaining a bank loan to start a new business or acquire property (such as a factory, machinery or equipment), especially in Africa. Owning a property makes it easy to request a loan.

Stop waiting, stop doubting. Invest in the Numero Agric city to enjoy amazing features