This ancient monument is a real hidden gem, located in south-western Nigeria. Some people even say it's the biggest single monument in all of Africa and to think it is right behind the BluePride Estate –  pretty impressive, right?
The Eredo is basically a 100-mile-long wall and moat that's been around for over a thousand years. This vertical-sided ditch is made of hardened laterite, a natural mixture of clay and iron-oxides. It's like a massive fortress, enclosing an area that's 25 miles from north to south and 22 miles from west to east. According to the Epe 2022-2036 Masterplan, the government has mapped out the area to be developed  into  a tourist site.
Back in the day, the Yoruba people – one of Nigeria's major ethnic groups – ruled over the area that's now enclosed by the Eredo. The monument even surrounds a bunch of towns and villages. It's thrilling to think about how much history is packed into this one spot.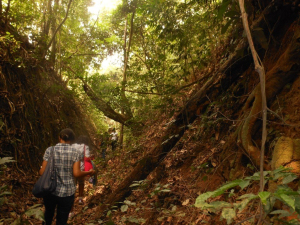 Image Credit: Adebayo Ebenezer Mayowa
When you see the Eredo up close, you'll be blown away by its earthen bank. It's 70 feet high and rises up from a wide ditch. The wall itself is reddish and covered in moss – it's like something out of a fantasy movie.
All in all, this monument is a real wonder of the world and legend has it that Sungbo, a childless widow ordered the construction of this impressive boundary because she wanted to be remembered. Her wishes are definitely being granted as long-distance pilgrims still flock to her grove.
Sungbo Eredo is the first definite proof that state formation occurred in the rainforest zone at the same time as in the savannah zone. Pretty neat, huh? There's still a lot more to be discovered about this amazing monument and its links to the present Awujale dynasty and its Odo settlements. 
So why settle for a boring old neighborhood when you could have an estate that's right next door to a true wonder of the world? Come see what Bluepride has to offer – we promise, you won't be disappointed. Call us now on 0913444483 or 07025000038.
Did you find this interesting? Do leave a comment!